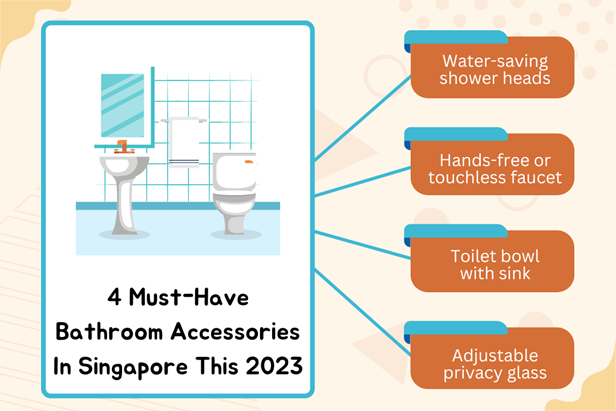 The bathroom, perhaps, is the most personal place in the house. It is where we get naked and be in our own skin and vulnerable state. Many people also find shower and bath time relaxing. It is only reasonable to decorate our bathroom with superb bathroom accessories in Singapore.
Here are the must-have bathroom accessories this 2023:
1. Water-saving shower heads
The difference between regular shower heads and water-saving shower heads is the amount of water it releases. Water-saving showers produce less water by up to 50% compared to ordinary shower heads but retain the same pressure.
Despite the difference in water consumption, the performance of the showers remains the same because of aerating. Water-saving shower heads aerate the water droplets or mix in water and air to create larger water droplets. The larger the droplet is, the larger the surface area it covers.
2. Hands-free or touchless faucet
Touchless is the latest faucet design in the world today. Basically, with the touchless faucet, you don't have to turn the handle or twist the knob to keep the water running. Hands-free faucets have sensors at the lip of the faucet's spout that detects a hand under it. When it detects a hand, the valves will open and release water. It turns off once you remove your hands under the tap.
There are several reasons why touchless faucets are must-have bathroom accessories. One, they are accessible to the differently-abled person. Second, it helps conserve water. And third, it prevents the spread of germs.
3. Toilet bowl with sink
If your bathroom is tiny and you want ways to save some space, you better go with a toilet bowl with a sink. Also known as a toilet sink, a toilet bowl with a sink is a toilet bowl with a sink lid above the toilet tank.
Besides saving space, it conserves water as well. After washing your hands on the toilet sink, the water will go to the toilet tank, which can be used for the next flush.
4. Adjustable privacy glass
People usually install sand-blasted, frosted, and tinted shower glass in their bathrooms for privacy. Today, the newest shower glass for bathroom accessories in Singapore for 2023 is the adjustable privacy glass.
With adjustable privacy glass, the person can change the transparency and opacity of the glass using a smartphone. You can go from transparent to blur in just one click!
Are you ready for these bathroom accessories this 2023? Get the latest bathroom accessories at TOTO. Visit TOTO today.