Keeping everyone safe is one of the owners' top priorities, whether in residential, commercial, or industrial settings. Besides increasing security with CCTV cameras to deter intruders from entering, using explosion proof enclosures like a circuit breaker box are a must to protect electrical wiring components and keep everyone inside safe.
However, explosion proof enclosures are not one size fits all. These come in different types with unique features. For example, an Ex D enclosure is often used in chemical and petrochemical plants since it can withstand the hazardous atmosphere. Owners that belong to these industries can rest assured that there will be a problem with power distribution and other electrical functions inside the operation areas where the EX D enclosure is.
Keep reading to learn the other types of explosion proof enclosures.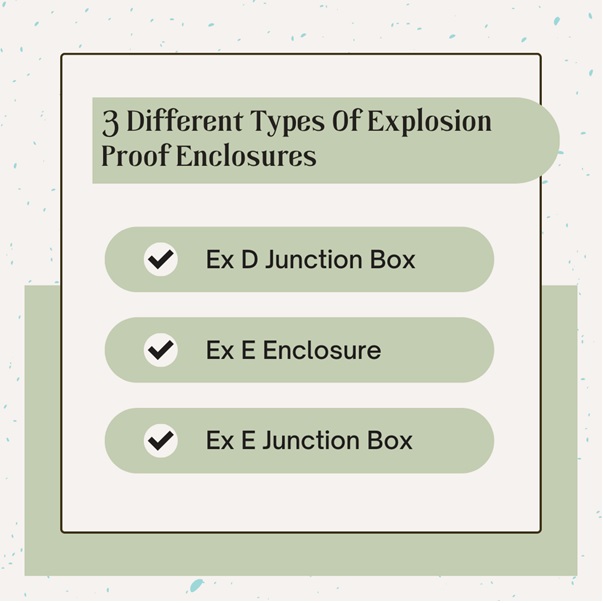 3 Different Types Of Explosion Proof Enclosures
1. Ex D Junction Box
An Ex D Junction box is like an Ex D enclosure since it can also withstand hazardous areas of chemical and petrochemical plants both indoors and outdoors. With IP66 ingress protection, you can be confident that it will function well even when exposed to temperatures ranging from -60 celsius to +60 celsius.
Another thing you need to know about an Ex D Junction box is that it has flameproof quality. Most explosion proof enclosures that belong to the 'D' category can hold out against internal explosion and even provide relief of the external pressure.
2. Ex E Enclosure
The next type of explosion proof enclosure is an Ex E Enclosure. Unlike the first two, this one belongs to the 'E' category, which has a robust design that can negate and prevent sparks.
With grand plates on both sides, it has enough space for CSE SD and CSE SX if you need to add extra cables. Most of the time, this type of explosion proof enclosure is used as follows:
Emergency call unit
Circuit breaker box
Lighting controls
Electrical housing
Panel sockets
An Ex E Enclosure is available in a variety of sizes to fit its many functions. Consider consulting an electrical mechanic to know which among the available sizes you should get for your needs.
3. Ex E Junction Box
An Ex E Junction box, however, is an explosion proof enclosure that can also withstand hazardous areas. Given that it has an ingress protection IP66/IP67, you can expect it can operate well from -50 celsius to +95 celsius. Apart from that, an EX E junction box is corrosion-resistant. That means its components are less likely to rust.
Despite being made of sturdy materials, explosion proof enclosures require proper routine maintenance to remain in good condition, so these would last for years. Owners should rely on licensed electrical professionals in this matter rather than doing it by themselves.
Contact Supermec at +(65) 68619522 (Singapore branch)/+(60) 3 5631 5370 (Malaysia branch) or leave a message on their website to learn more about explosion proof enclosures like an Ex D enclosure. They can also help you look for the right model for your business.